Re-structured information architecture and navigation experience for the public-facing properties of 2600Hz.
Role
Experience Strategy Lead
Responsibilities
Product Marketing Strategy
Information Architecture
User Experience
Iconography
In Q2 of 2016, the 2600Hz Marketing and Design Teams were nearing the end of a tedious restructuring phase of the company's online presence. We were approaching this restructure from two fronts, with the first being the addition of the new 2600Hz Community site. This would be a formal aggregation of our documentation site, events and trainings site, and forums site, as well as offer a place for customer enablement material and additional outreach.The second focus was a large shift in our product marketing strategies. With a platform as dynamic as KAZOO, it was proving difficult to effectively communicate that one telco platform could be utilized in a variety of ways, for very different audiences. Key 2600Hz stakeholders wanted to shift strategy and begin to separate product verticals to allow for targeted marketing based use of KAZOO.
[EXISTING FRICTION POINTS]
My first task was to take inventory of 2600Hz's current online properties and their interconnections. I looked at how/where we were enabling visitors to make decisions, and noted points of friction that could benefit from an improved experience. With an audit of the current online presence, I worked with stakeholders to fine-tune a content hierarchy strategy focusing on guiding visitors from the discovery phase to the customer enablement phase.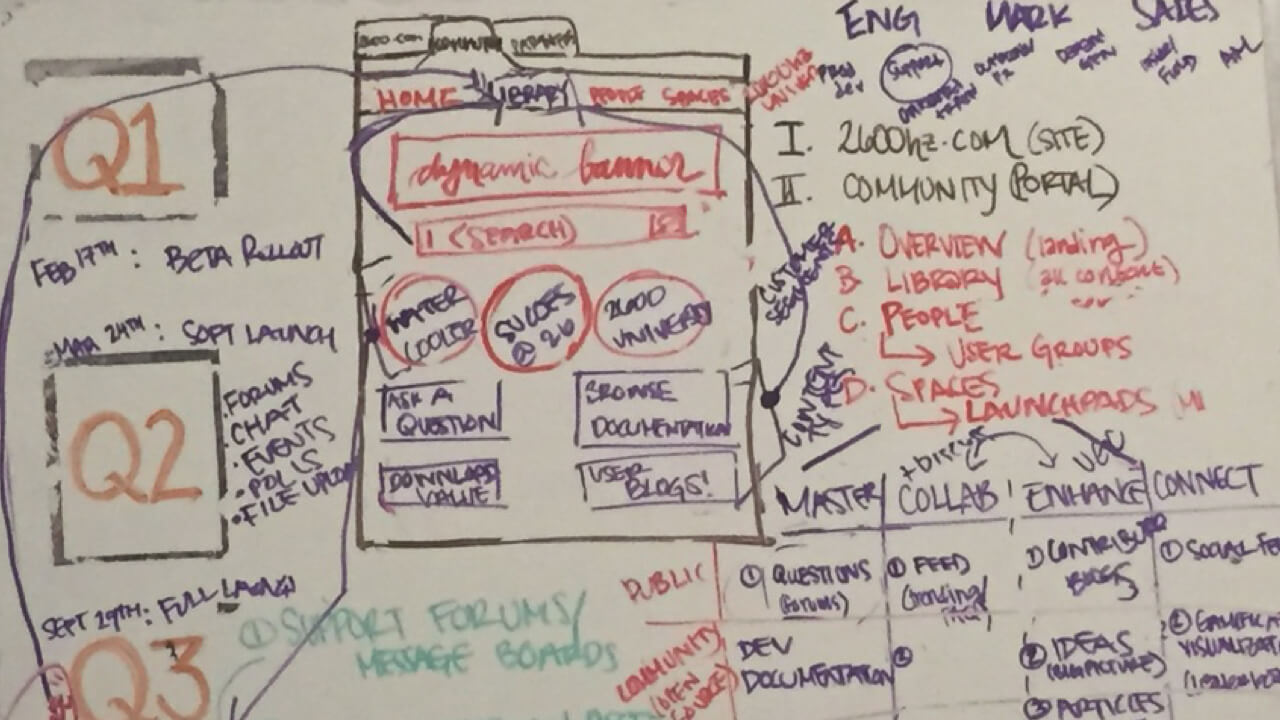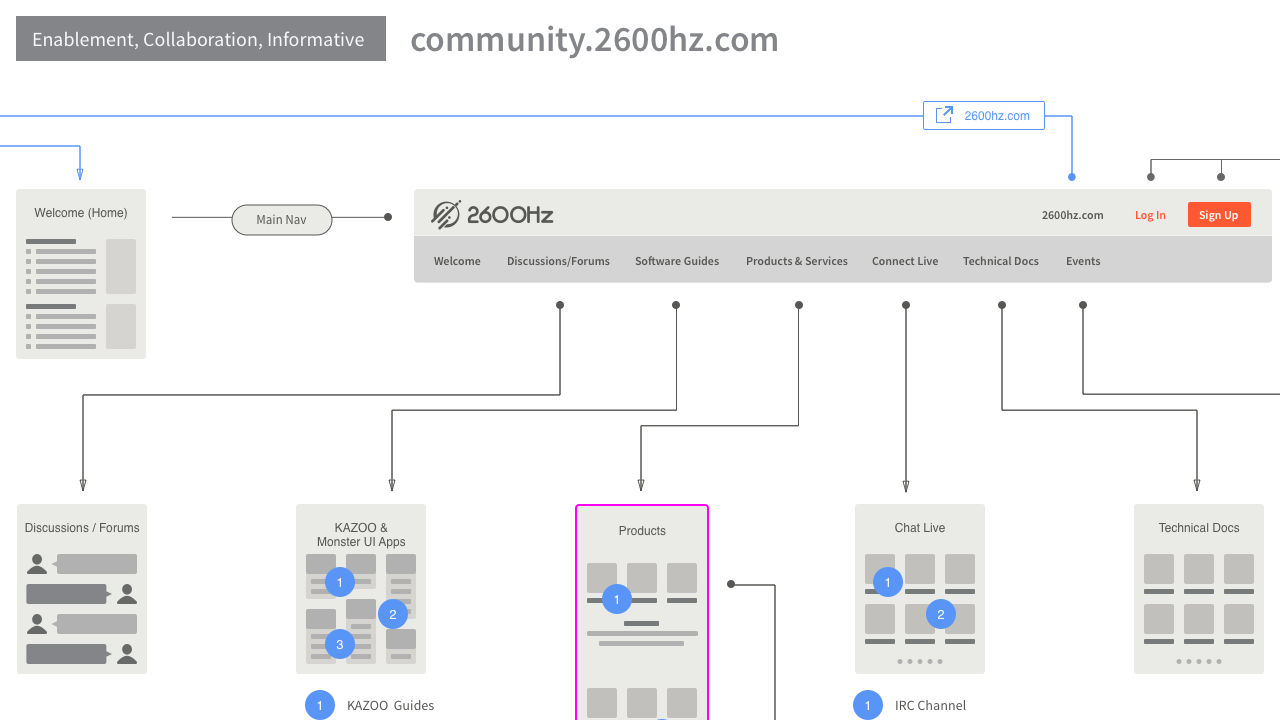 With a cohesive strategy for the community taking form, I started mapping the architectural updates required for our marketing site. There would be a handfull of new pages that needed design and development, and we were implementing a new lead gen. strategy so I wanted to make sure every team member was working from the same point of reference.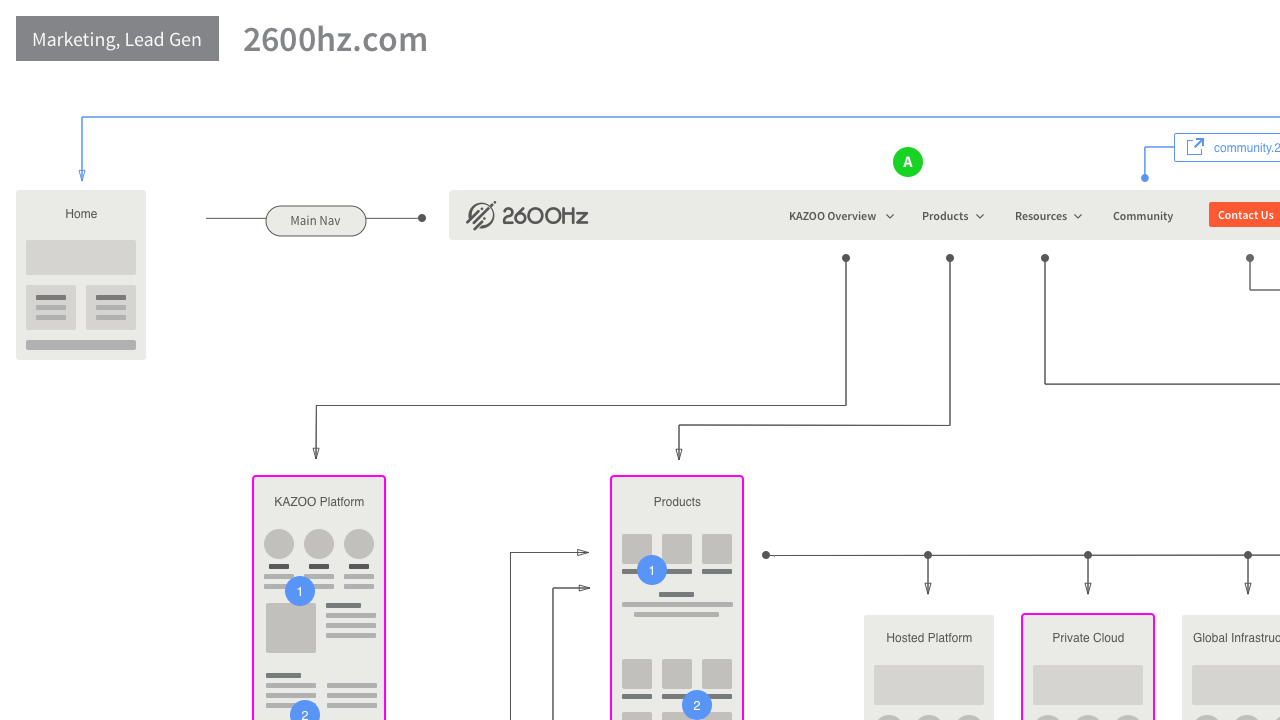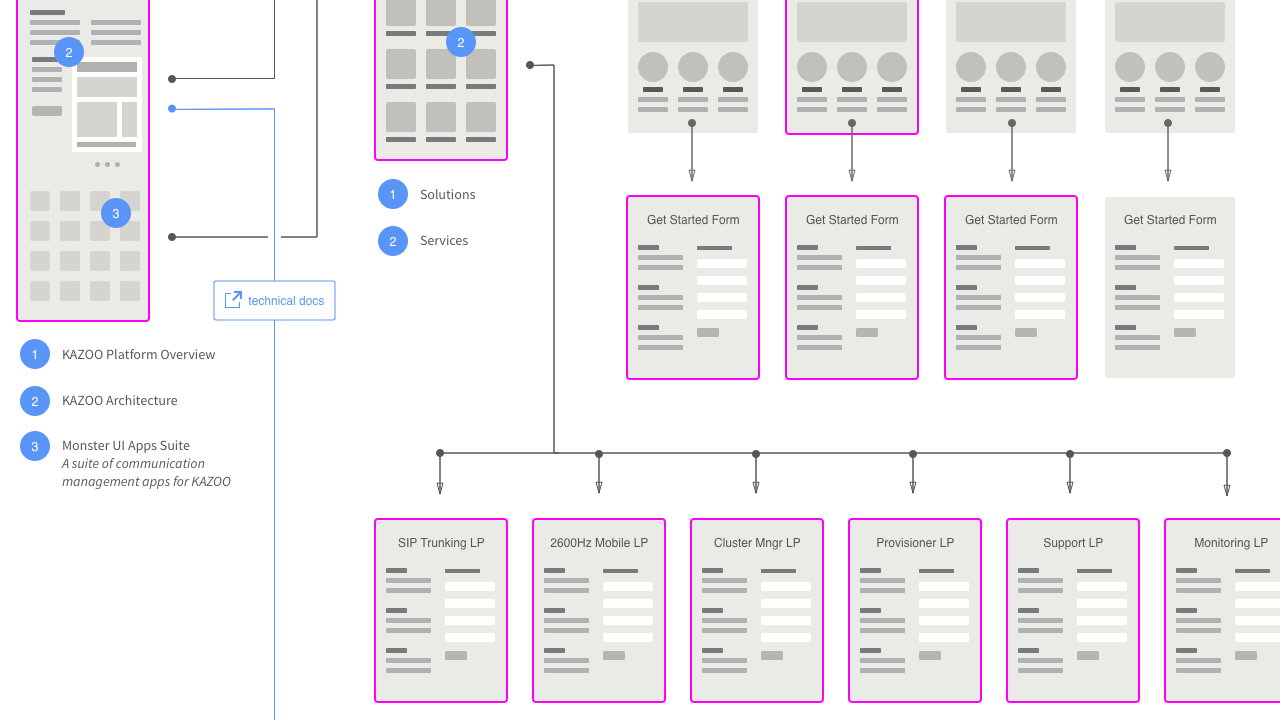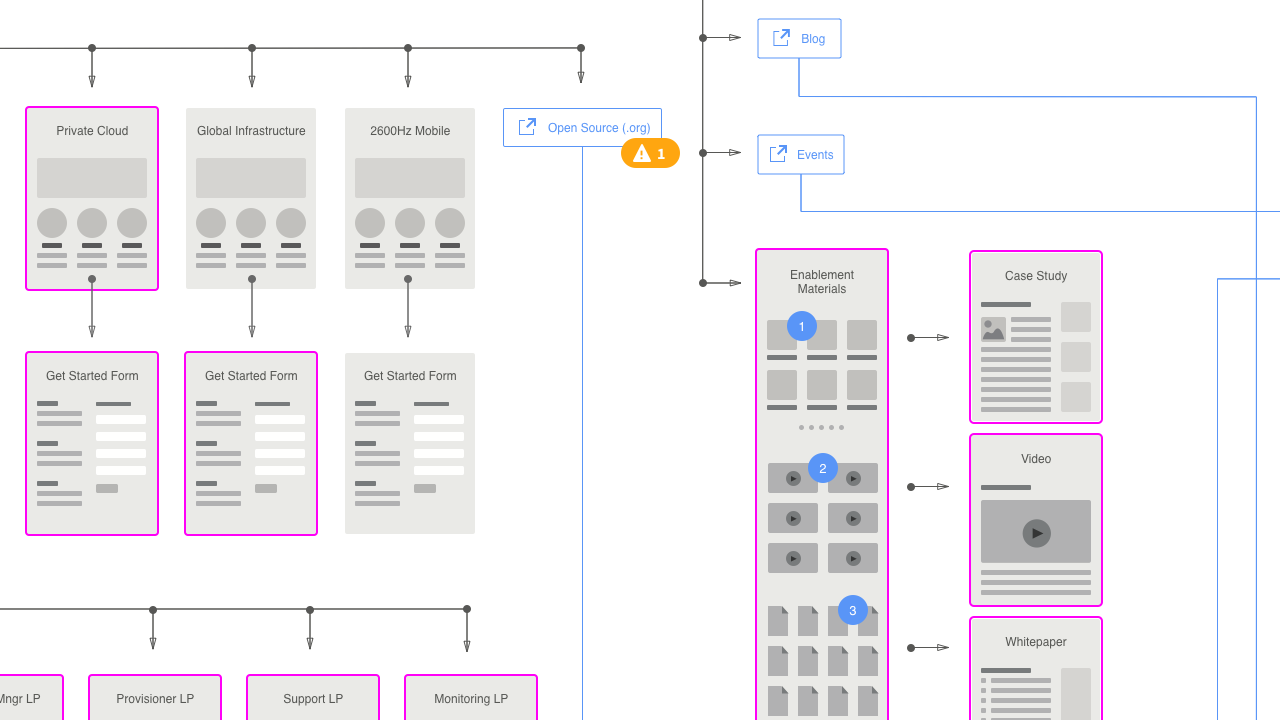 This process continued until the entire catalogue of 2600Hz sites(sans social media channels) had been mapped. This online presence map would be the single source of truth and reference point for all future decisions.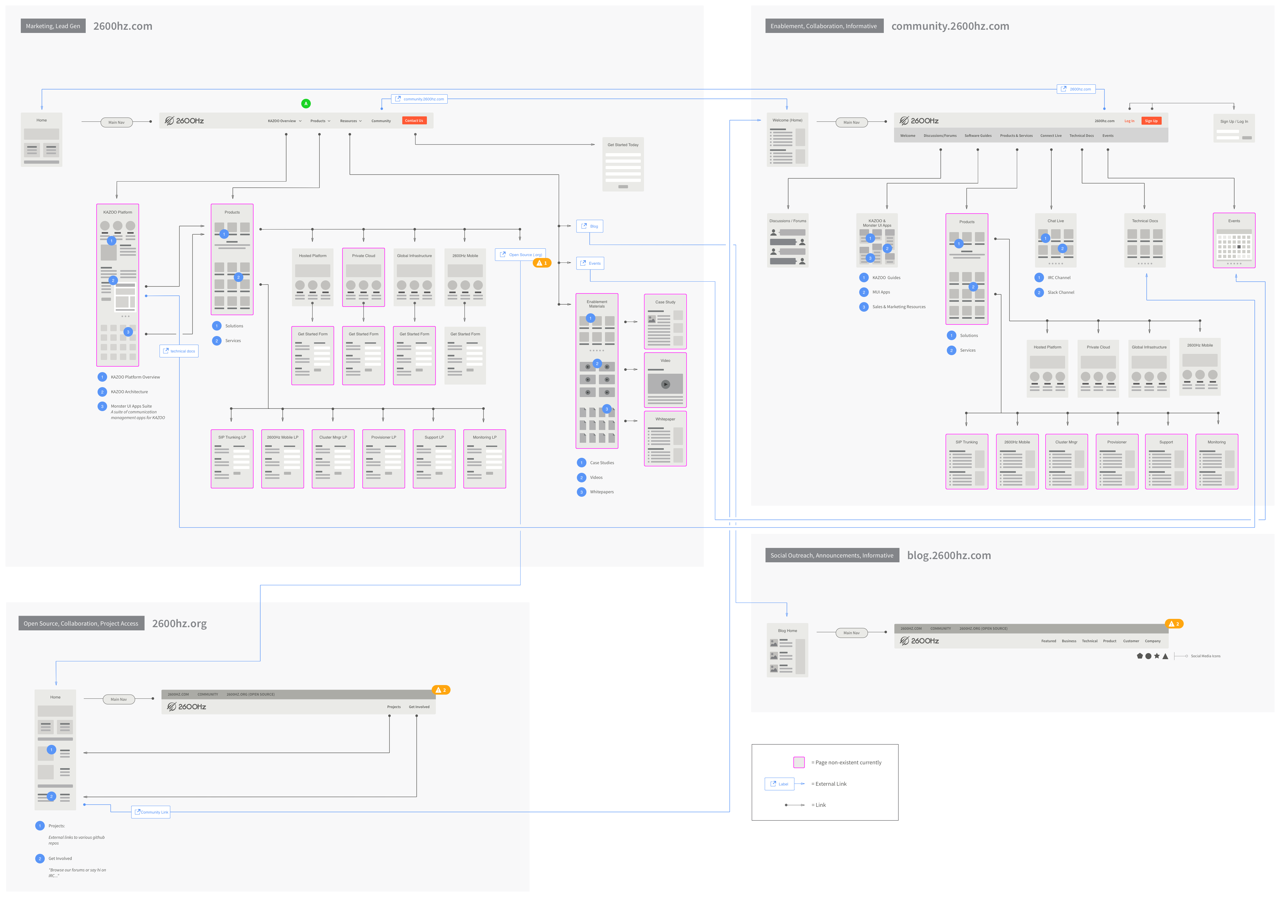 [PRODUCT DIFFERENTIATION & NAVIGATION]
As I finalized v1.0 of the online architecture, our team shifted focus and started strategizing around formally naming 2600Hz's different products. We experimented with different conventions, exploring catchy industry terminology, straightforward accronyms such as SaaS, PaaS, and IaaS, and abstract verbs based on product use. In a visual attempt at the naming process, I started creating iconography based on keywords and concepts from our brainstorming sessions.In Telecom, hosting and accessibility are extremely important regarding security and fraud prevention. Taking this into account, our team decided on using descriptive names that referenced how the KAZOO software would actually be implemented.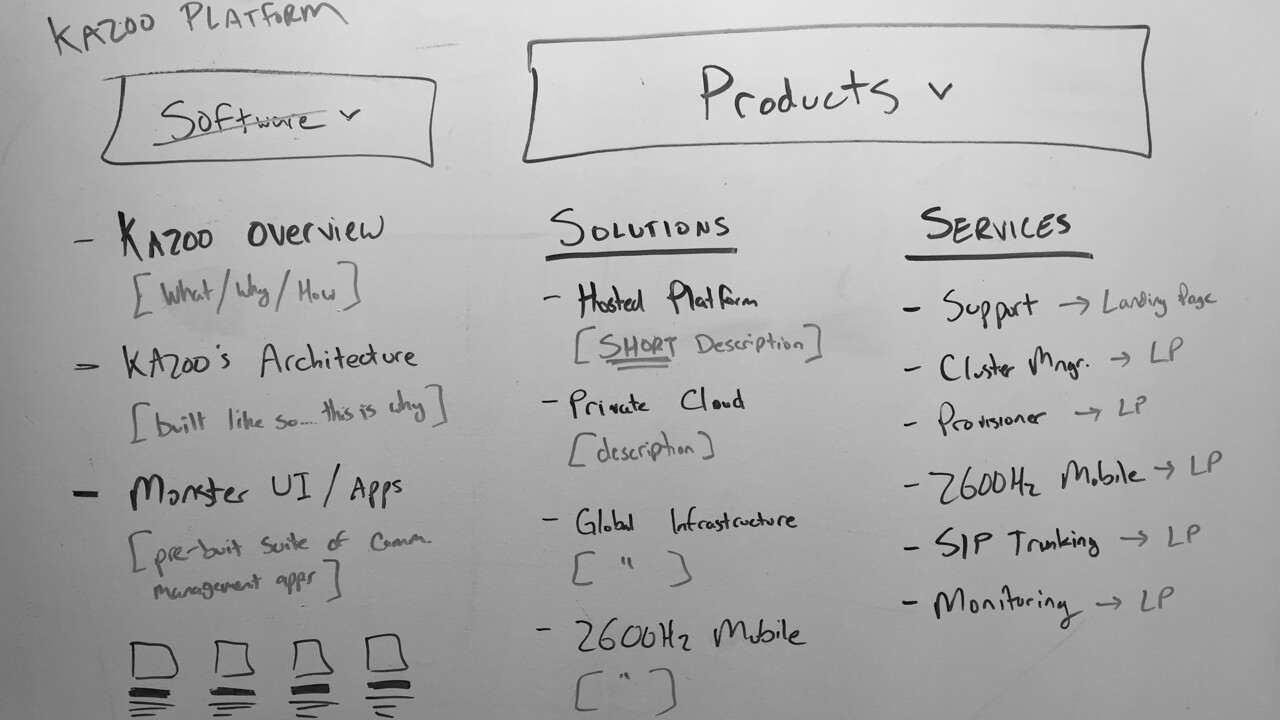 The iconography tests I made during earlier brainstorming gained traction amongst the team. As such, it was decided to use icons to aid in identification and differentiation of each product. To correspond with how the products were named, I created icons that were visual abstractions of how KAZOO would be implemented.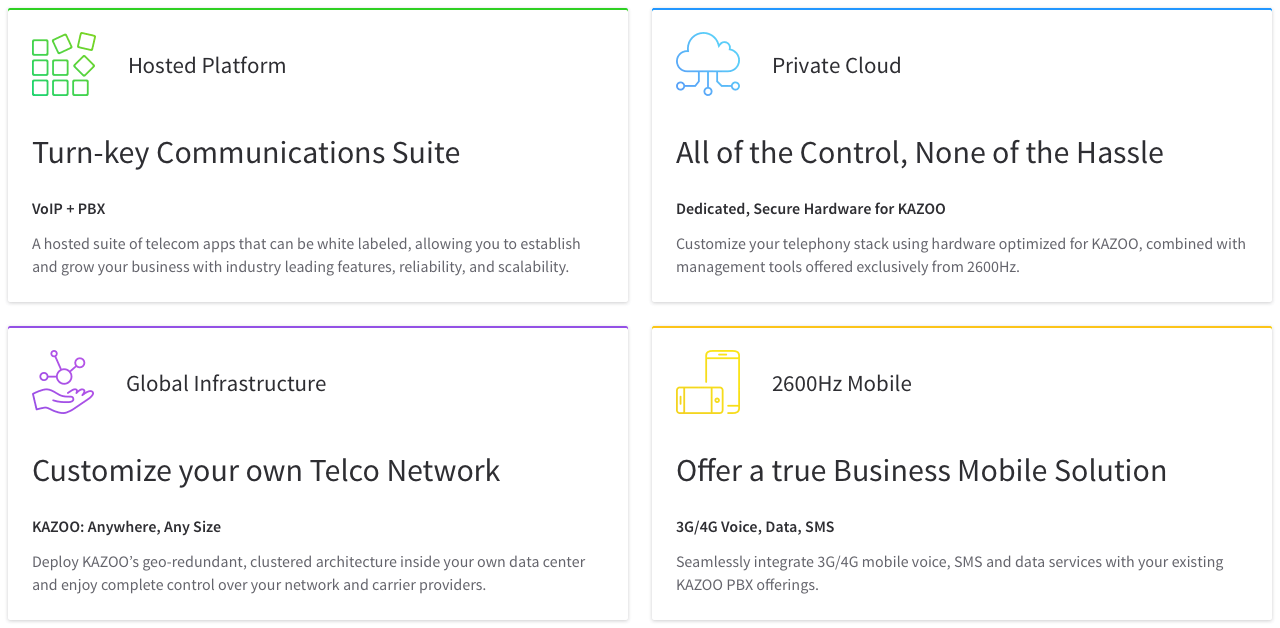 In conjunction with the product naming process, I was working on wireframing the navigation experience for our marketing site 2600hz.com. This would be one of my last touchpoints on this project. After wireframes were completed, I put together a few different navigation prototypes to present to the team. Once a navigation experience was agreed upon, I packaged and prepared all files for handoff to our Marketing Designer.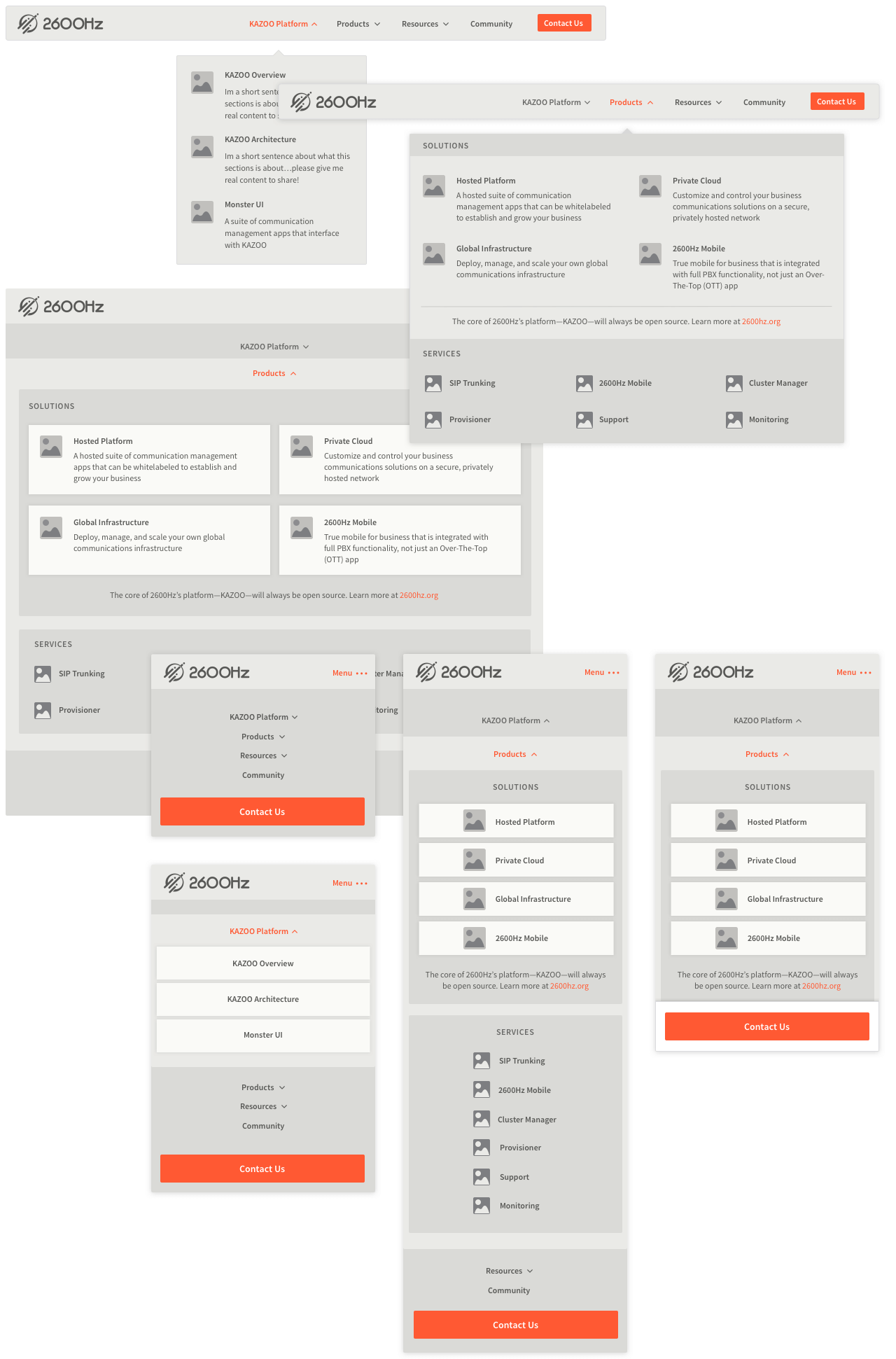 Due to its scale and complexity, implementation of this project was broken into phases. Portions of the navigation and community have been pushed live, while others are still in the planning or development phase.When the community site went live, we saw an initial surge in growth that eventually leveled to a small weekly increase in new members. We still see spikes in growth and/or engagement surrounding major conferences or speaking engagements that 2600Hz participates in, with our total active members currently nearing 1000 members. The most extensive launch was the Forums section within the community, which has continued to evolve into an extensive knowledgebase with about 4,700 current topics and just under 25,000 unique posts.
2600Hz Team Credits
Darren Schreiber (CEO)
Patrick Sullivan (COO)
Miriam Libonati (Head of Marketing)
Irina Kirnos (Product Marketing)